Infrastructure And Facilities
"A successful society is characterized by a rising living standard for its population, increasing investment in factories and basic infrastructure, and the generation of additional surplus, which is invested in generating new discoveries in science and technology."-- Robert Trout
In recent times as the investment in Infrastructure and facilities has definitely ascended, a road map for incorporated Infrastructure development, with substantiating government policies and boulevards to raise funds for the projects, is the need of the hour. Founded in 2006, the Vita Labels is a manufacturer, exporter and supplier company of all types of garment accessories, established in New Delhi, India. Vita Label is a radically distinctive company, specialist in adding value to the brands in the fashion and clothing industry with the help of clothing labels, clothing tags like garment accessories.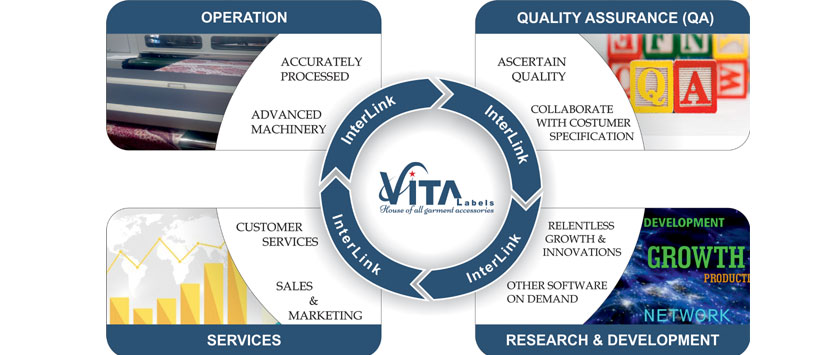 With integrated collaboration and with its continuous and relentless growth, efforts and innovations, the various divisions of Vita Labels are successfully achieving firm's objectives with creating value for its customers. Our well organized infrastructure has the specialized units namely-
Manufacturing
Purchasing and Quality Assurance (QA)
Technical support and In-house Product Design
Customer Services
Research and Development (R&D)
Accounts and Legal
Sales and Marketing
We have manufacturing, QA, Technical, R&D, and sales departments on the same domain. This propinquity facilitates and heightens seamless collaboration and communication between departments to ensure all orders are quickly and accurately processed, quality checked and shipped to meet customer specifications. In 2015-16, Vita labels added up more advanced machinery in its set up to improve the service and enhance large production capacity to meet your bulk needs.
The company culture is honest, dynamic, innovative, open and transparent. Vita Labels is establishing and leading business with values that seek to speciate itself through customer centring, innovation, responsibility, trustworthiness, by evincing customer ideas with trust and complying with ethical business operations.