Vita Labels Profile
Founded by Mr. Rajeev Singh in 2006, the Vita Labels is a manufacturer, exporter and supplier company of all types of garment accessories, established in New Delhi, the capital of India. The firm exports and deals in all over India with a mission 'To create value for its customers and improve the quality of lifestyle of the community with its continuous and relentless growth, efforts and innovations.
Vita Labels is solely founded on the philosophy of "quality and service above all". Our activities extend in the manufacturing, exporting and supplying of all type of garment accessories like Clothing Labels and Tags, Stickers and Barcodes, Tag Seals, Woven and Metal badges, Patches, Ribbons, Lanyards and Buttons etc. We are also leading and highly specialized in wide range of Garment and customized Fashion Embroidery.
We at Vita Labels believe in customer satisfaction as our first priority. Our wide ranges of products are apprized for their stronghold colours, quality and durability. We deliver products according to the needs and requirements of our clients. We have the potential to serve high quality products at your doorsteps.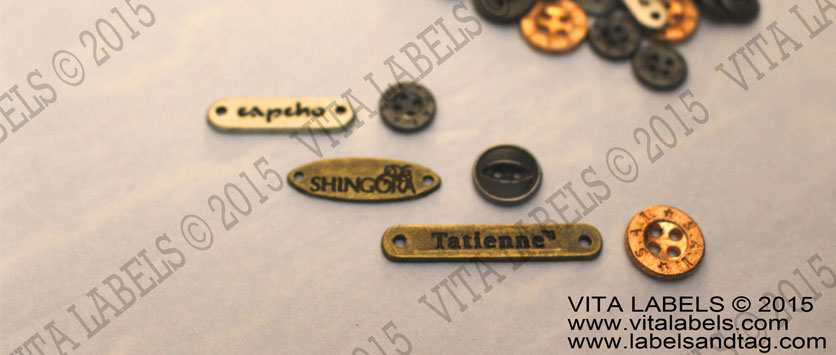 In 2015-16, Vita labels added up more advanced machinery in its set up to improve the service and enhance large production capacity to meet your bulk needs. In a demanding marketplace where the label and article image have become as significant to the buying decision as the quality, Vita Labels has been able to live up to the challenge. Proof of its high standing is the fact that the company is an approved supplier to an ever-growing number of leading national and international customers.
The Vita Labels vision is that, by 2025, globally customers and business partners will experience the Vita Labels commitment to coming forth as the leading and most admired and reliable garment accessories manufacturing Indian company creating value for its customers and improving the quality of lifestyle of the community with its continuous and relentless growth, efforts and innovations. With the support of its customers, determined staff with expertise and skilled team, quality analysts and with advanced computerised machines, Vita Labels will achieve global position in its business.
Being one of the emphasized related sectors of "Make in India", we provide eminent products to the customer with aiming zero adverse environmental and ecological effects.
With its innovating and entrepreneurial spirit, Vita Labels is establishing and leading business with values that seek to speciate itself through customer centring, innovation, responsibility, trustworthiness, by evincing customer ideas with trust and complying with ethical business operations.